Weatherproof, durable design for outdoor installations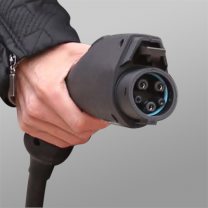 Will it be compatible?
Yes, your charging station will charge any vehicle meeting the SAE J1772 standard, used by most electric vehicles in North America.
Weatherproof, durable design for outdoor installations
The Original
The weatherproof Bosch EV800 Series Bollard uses a fully-sealed enclosure to provide reliable charging in any condition. An adjustable power output ranges from 12 - 32 amps to help you find the most efficient charge for your electric vehicle and existing wiring.The Level 2 240V American made EV800 Series lets you choose between 12 - 32 amps of power, and can charge compatible EVs up 6 times faster than a standard level 1 cordset. The compact and durable design of the EV800 Series will withstand nearly any environment while taking up minimal space.
Inside and out, the EV800 Series is versatile, reliable, and efficient.
Installation
EV800 Series is built to exceed NEMA 4X standards, making it weatherproof and ideal for indoor or outdoor installation, charging safely in any environment.
Bosch recommends working with an experienced electrician to install your new charging station. Pedestal mounting requires hardwiring and ground anchors. The impact resistant steel construction can be installed in a parking lot.
Charge Anywhere
The EV800 Series is built to withstand rain, sleet, snow, ice and heat, all while delivering a reliable, safe and fast charge. Industry-leading NEMA 4X weatherproofing means you can safely charge indoors or out.
Versatility
Bollards are constructed of 1/4" galvanized steel to protect against vandalism and light impact.
Control
Need to control how and when people can charge? The EV800 Series can be installed with many 3rd party accessories such as timers and switches. There are also vendors who have payment kiosks such as XCP.
*Call 877.805.3873 or email evorders@bosch-automotive.com to order
*3rd party accessories are not sold or warranted by Bosch. Accessories must be installed according to all electrical code and safety standards.